Student leadership, although valuable, comes at a cost; students who take on leadership roles put themselves into high-stress, yet hopefully rewarding, positions.
Assistant Vice Chancellor and Dean of Students Shea Kidd Houze, alongside psychology professor Dr. Joe Miles, led a discussion Wednesday evening regarding the intersection of mental health and student leadership as part of UT's RockyTopics series. The series features talks related to different facets and struggles of student life at UT and began last semester, after Dean Houze and Dr. Miles began brainstorming ways to address issues that students may be concerned about in a preemptive rather than reactionary manner.
The RockyTopics this semester will focus primarily on the intersection of different identities, and the discussions are also part of Dean Houze's Vol is a Verb and Matter and Belonging campaign. Upcoming RockyTopics include the intersection of religion and sexuality, free speech and life as a student with a disability.
At the beginning of Wednesday's event, Dean Houze gave an overview of the way that student leadership and mental health interact. She explained that leaders often appear to have their lives in order when in reality, they struggle just as much as anyone else.
"There's this facade that we have as leaders in general, whether it's a professor within psychology, or it's the Dean of Students, or it's a student in an organization, I think we all have that tendency of 'having it all together'" Houze said.
She explained that in her experience as the Dean of Students, she has witnessed student leaders attempt to accomplish too much at once, at the expensive of their own-well being.
"What I've seen anecdotally is that student leaders are burning themselves out at both ends and not really having space to talk about mental health, and we want you to be able to do that, so that's a big part of tonight," Houze said.
The tables filled with attendees were arranged in a large semi-circle, and after Dean Houze's introduction, all those in attendance went around and introduced themselves, sharing their name, major, pronouns and leadership roles.
Afterwards, the presenters shared a Ted Talk from Brené Brown on the power of vulnerability. Brown discussed the importance of vulnerability; she explained that although it is a source of shame, it is something that must be embraced and endured by all in order to one day reach full happiness.
Attendees then split into small groups in order to open the discussion on vulnerability, mental health and self care as a leader on campus. After concluding small group discussions, the crowd reconvened to share what was analyzed with everyone in the room.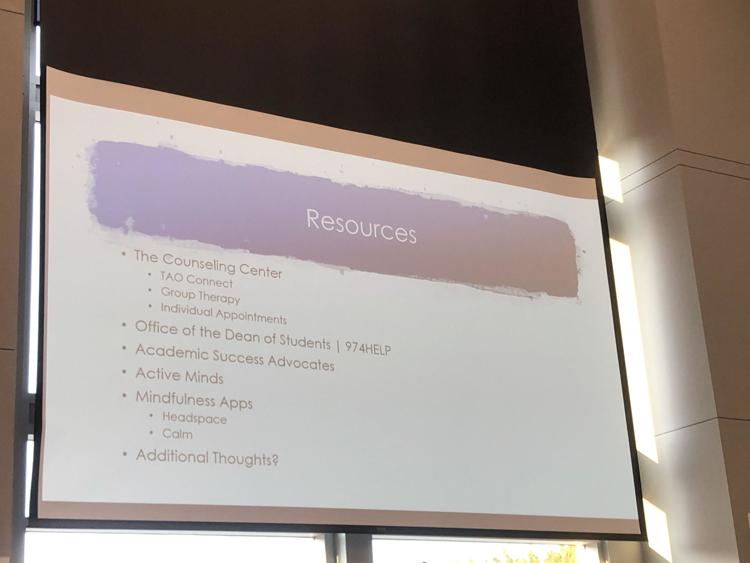 Isaac Holt, the current Student Body Vice President, explained the internal conflict that he often experiences at the hands of external issues, such as trying to decide whether to prioritize rest and school work or activities that he's committed to for student organizations.
"Trying to please people while also taking care of yourself is a constant battle," Holt said.
Students in the room discussed a variety of different ways that they experience mental health struggles and then carry out self-care, ranging from realistic goal-setting to de-cluttering to the value of a simple hot bath.
Dean Houze also discussed some of the ways that she practices self care. She discussed the value of taking time to appreciate the world that we are constantly surrounded by.
"Gratitude's a peace that I try to use as a way to cope," Houze said.
Dr. Miles also shared advice on self care and discussed the practice of mindfulness meditation. He explained that mindfulness, according to the renowned mindfulness teacher Dr. Jon Kabat-Zinn, involves simply being attentive and present in the moment you are experiencing and then acknowledging, without judgement, any intrusive or off-topic thoughts that enter your mind during that time of focus and appreciation.
"Thoughts come into your head, and you become aware of them, and you're not judgmental of them, and then you let them go and get back centered into the moment," Miles said.
The presenters concluded the discussion by sharing mental health resources that are available on campus, including the counseling center, 974-HELP and Academic Success Advocates. They also discussed Active Minds, which is a student organization that aims to raise awareness about mental health on campus.
In addition to the series of talks, Dr. Miles will be offering, beginning the second half of this semester, one-credit psychology courses that foster internal dialogues, with the goal of beginning these dialogues around campus. This fall, there will be three sections available and each will focus on the discussion of one of the following topics: race and racism; race, class and gender; and religion and sexual orientation.