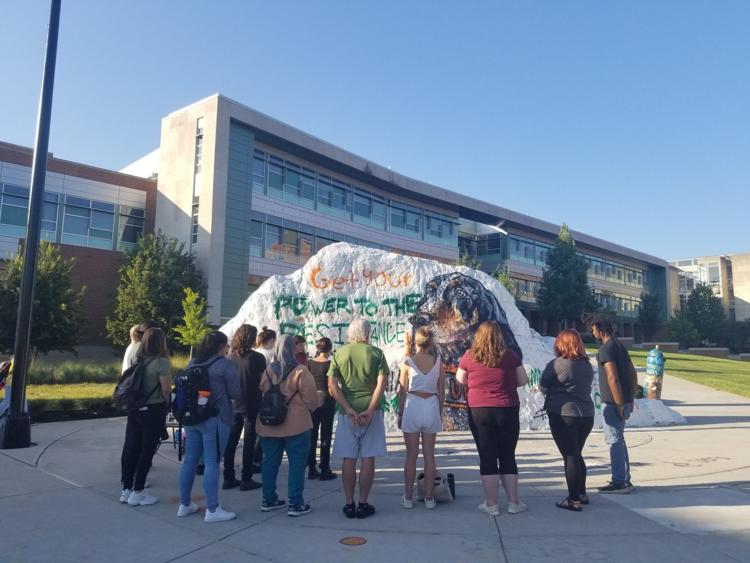 The Progressive Student Alliance held a vigil to support the Amazon rainforest at the Rock Thursday evening. About fifteen people showed up to raise visibility about the current status of the rainforest and raise funds for the preservation of the Amazon.
Students painted the Rock with the message, "Get your power to the resistance," followed by the hashtag "ACT 4 AMAZONIA." They also painted the name of an organization that works to preserve the rainforest, AmazonWatch.org.
One of the students gave a brief speech dedicated to the Amazon rainforest and those who lost their homes during the area's deforestation, and a moment of silence followed.
One of the organizers, Evora Kreis, a sociology and Spanish double major, addressed the issues in the Amazon.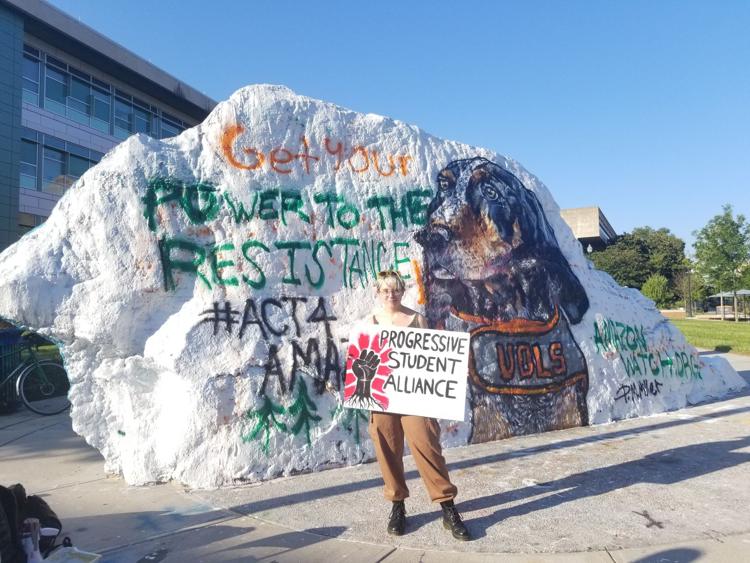 "With the election of Brazilian president Jair Balsonaro, deforestation has been drastically increased due to his anti-indigenous and Neoliberal policies that encourage foreign corporations to come in to destroy the rainforest for economic game," Kreis said.
Kreis explained that Amazon Watch and the Brazil's Indigenous People Articulation, groups that are working on the frontline trying to prevent destruction of the Amazon forest, designated Thursday as a global day of action for the Amazon. The activist organizations are pressuring Brazil to protect the rainforest and the area's indigenous population.
According to Anna Helms, an alumnus of UT, Amazon Watch in particular is working to keep the Amazon intact by connecting 400 groups of different Amazonian, indigenous peoples to indigenous activist groups and social justice groups fighting against the destruction of the rainforest. Amazon Watch then grants the groups financial aid. The raised fund from UT's vigil will be sent to the organization.
One of the participants of the vigil, Marium Hussain, an environmental sociology major, discussed the role that students should have in addressing this problem.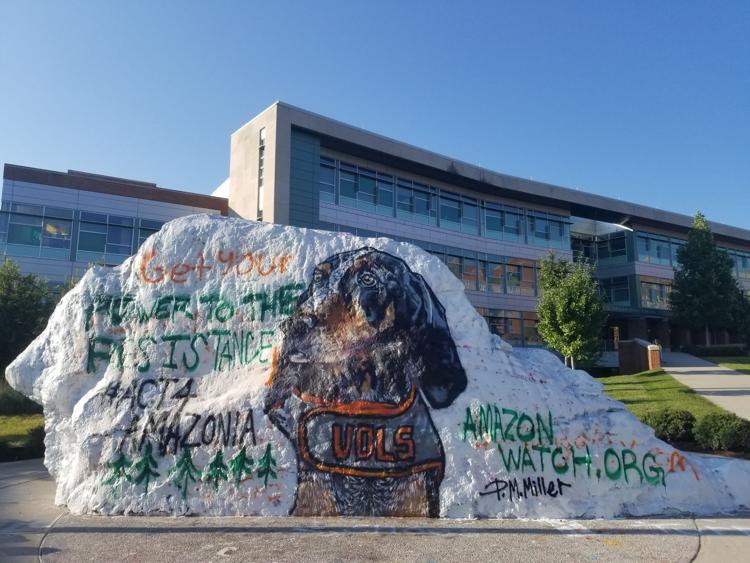 "I think it's our responsibility to stand up for what we believe in and to take action to support those who need support, as well as to stand up against the powers of the world that are taking advantage and exploiting a lot of communities right now," Hussain said.
Sarra Ghezzaz, another participant and a neuroscience major, explained that Amazon deforestation should concern the entire world.
"I'm just here to support. I'm helping any way that I can because honestly, it's affecting all of us. Not just us in Knoxville and not just the people in the rainforest but the entire world right now," Ghezzaz said. "It's affecting everybody. So, I think everybody should be doing something to help those in need in any way they can."
You can stay up to date about other events regarding the preservation of the Amazon rainforest on the Progressive Student Alliance's Instagram page.