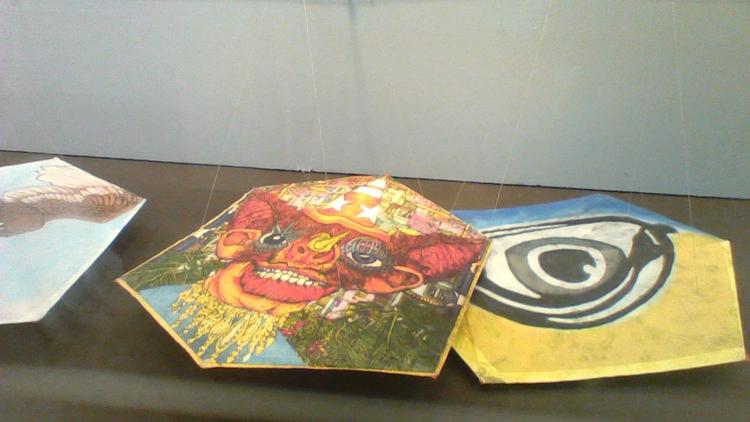 The University of Tennessee's Art Department is once again showcasing student and faculty art. This time, they've opted to showcase a variety of Rokkaku kites.
Rokkaku kites are "a form of Japanese kite made from bamboo spars." Currently, seven such kites are on display in the Art and Architecture Building, room 103.
Rokkaku kites typically depict images of the Buddhist monk Bodhidharma. However, in preparation for the 2020 SGC International Printmaking Conference, UT Professor Koichi Yamamoto asked 43 artists to create such kites with a variety of images painted on them.
I imagine the works will look better when soaring through the wind next year, but the results are beautiful and varied when viewed on the ground.
Some of the kites are detailed with realistic imagery of animals, some are abstract depictions of items or emotions and some depict relatively simple objects in vibrant ways.
There are three pieces in particular which catch one's eye. One depicts the abstract image of a human-bat hybrid creature. It stares directly towards onlookers, haunting as it is creative and skillfully made. It will look wonderful when up in the air.
The second depicts an eagle carrying a snake, the snake decorated in American stars-and-stripes. Though not a particularly striking image when described, this imagery buries itself into one's mind with its coloration and semi-realistic detail.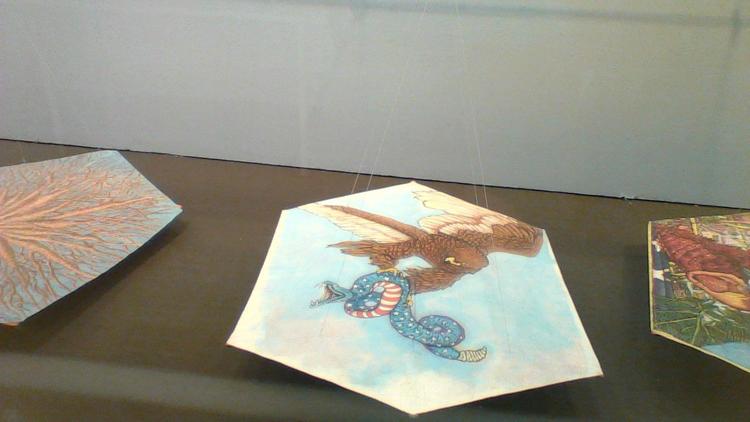 The third piece depicts a plant and stem in a medieval style, or so it appeared to me. Its soft and warm coloring contrasts nicely with the vibrancy of the other works.
It's amazing how one could paint such vibrant imagery onto such difficult materials. The artists ought to be commended. However, I cannot commend any of the artists as there are no artist citations nor any artist information near or around the exhibition. It's a shame, because I'd love to credit the craftsmen and women who made such beautiful works.
The lack of information surrounding the art is prominent all around. Aside from the small snippets provided above, there are no details on the designs' meaning, background on the craft's history or information about the artistic process needed to make them. The kites simply hang in the window of Arts and Architecture room 103 with a blank backdrop and only a small sign indicating their existence.
Furthermore, the little information found on that short sheet in the gallery only leads to more questions about the craft, with no way of answering them. Perhaps the Art Department will include more information as the month goes on, but the current display is lackluster.
I'd love to see more examples of this art style in the future, and I recommend checking out UT's selection. However, I hope the display improves throughout the month.
The kites will remain in the Art and Architecture building until Jan. 24.