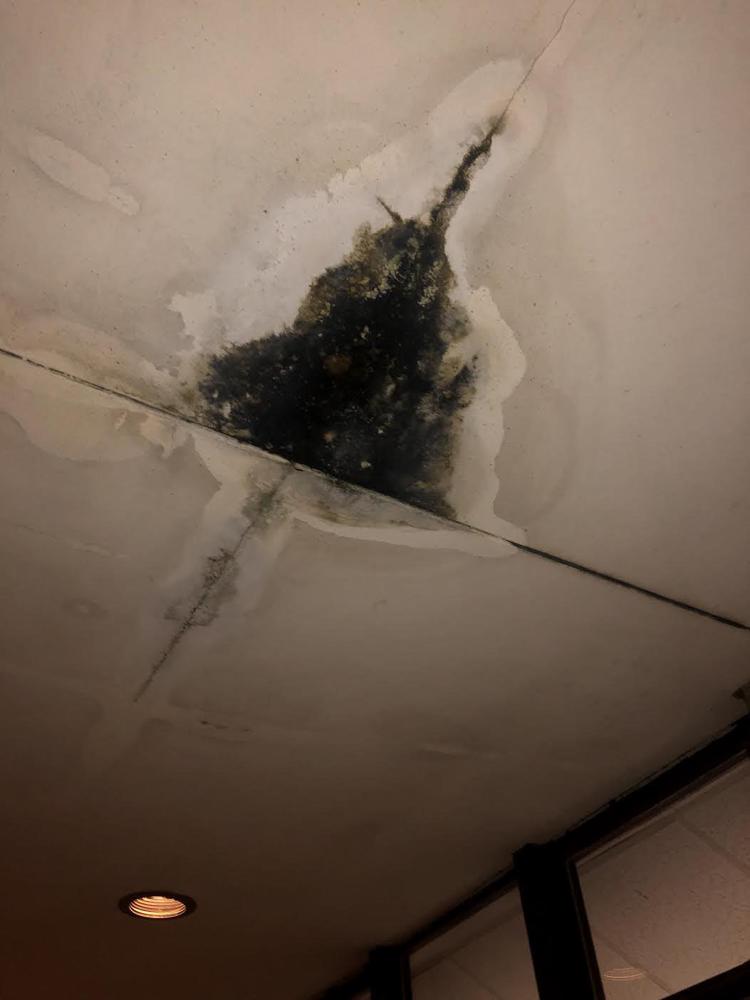 Multiple reports from concerned students claim dorm halls are affected by dangerous mold.
The claims come less than a year after UT Housing announced in October 2018 that Laurel Hall would be closed for the remainder of the school year due to mold inside the building.
According to an email sent by Emiliana Castro, a freshman in environmental and soil sciences and concerned Hess Hall resident, to Hess Hall hall director Alyssa Franck, and shared with the "Daily Beacon," she is experiencing health issues and claiming they are caused by mold.
"We feel this is the case because after leaving the building," Castro claimed. "We both find that our symptoms cease to continue."
In the same email, Castro requested that swabs be taken and tested for mold, claiming they do not feel a visual inspection "will be at all sufficient."
In response to her resident's concerns, Franck said she understood Castro's worries, but the university housing mold-response protocol is to begin first with a visual inspection.
Castro soon conducted a student survey asking 77 different students questions relating to housing and mold problems following her email conversation with Franck. 
One question asked by Castro was if students felt worse after spending a prolonged amount of time in their dorm buildings. In response, 58.44 % of students surveyed answered yes. Additionally, when asked if students had their own concerns about a mold problem prior to answering the survey, 53.25 % of students surveyed by Castro answered yes.
The mold concerns are not limited to Hess Hall. Michaela Rowsey, a freshman in the professional program living in South Carrick, claimed there may be mold in her room making her sick, and she is moving out because of it.
"I've had a sore throat and a runny nose since I moved in," Rowsey said.
Rowsey attributes her symptoms to mold in her dorm. She claims to have seen what she believed to be mold in her vents and on her ceiling.
"Mold is a top factor in my decision to move out," Rowsey said. "I'm concerned, my parents are concerned. It's honestly quite alarming."
Rowsey said she knows of multiple other girls in South Carrick who have fallen ill, adding that another young woman on her floor has bronchitis and attributes her sickness to mold in her dorm.
"The university isn't paying as much attention to this as they should. … I think it's important for them to care about students. If 'Vols Help Vols' is truly the motto of this school, then they should be willing to put students in new housing, regardless of money, for the students' well-being," Rowsey said.
Just a few yards across Presidential Courtyard in Reese Hall, freshman studying recreation and sports management Cooper Bell said he too has had encounters with mold. He explained that he was sick and said he believes mold was the cause of his headache, congestion and upset stomach. 
"My roommate went home this past weekend, and his symptoms cleared up after he left," Bell said, mirroring Castro's experience.
Across campus in Clement Hall, undergraduate student James Hyman said that many people on his floor are sick, all claiming mold could be the cause, with Hyman adding that he has felt dampness and mugginess in his room. 
Tyra Haag, the Director of Media Relations for the University of Tennessee, summarized housing's role in the situation.
"University Housing has received a total of seven maintenance work requests in Reese and South Carrick concerning suspicion of mold. No evidence of mold was found. Every time mold is reported through a maintenance request, University Housing staff uses the mold response guidelines found on the Healthy Living Environment website," Haag said. "There is mold and mildew prevention information available on the healthy living environment pageon the University Housing website. If a student believes they have mold in their room, they should complete a maintenance request so that University Housing staff are notified and can respond."
University Housing did not respond to the Daily Beacon's request for comment.