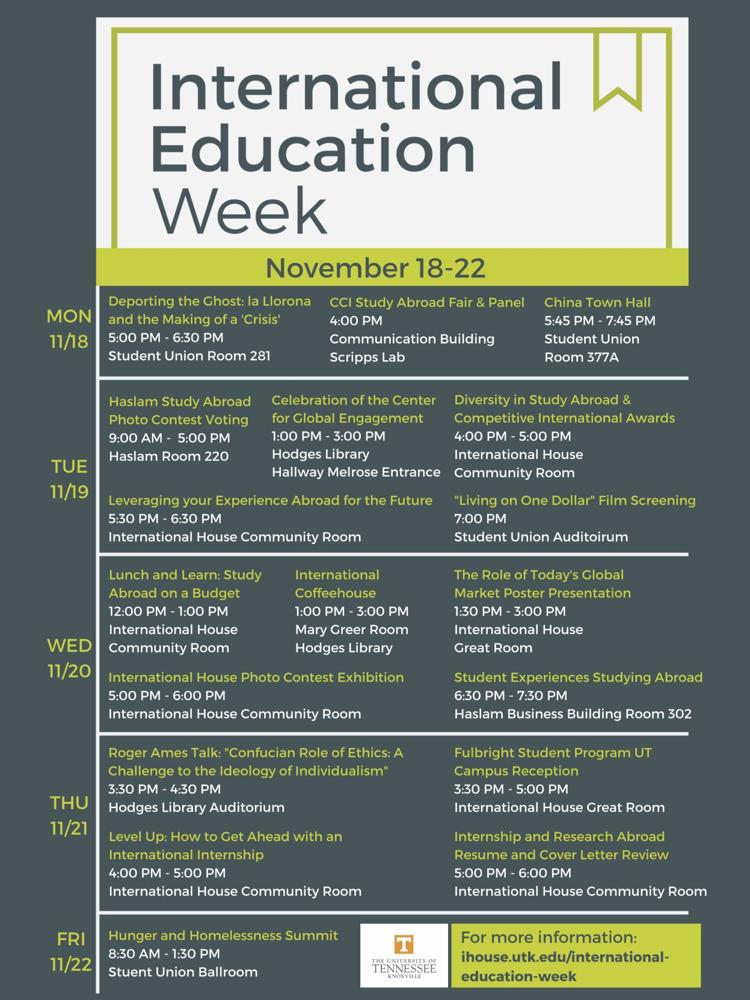 This past week, UT's International House has worked tirelessly to get Tennessee in touch with the rest of the world.
International Education Week (IEW) was started by the United States Department of State and the Department of Education in 2001. It began as a way to promote the benefits of international education and worldwide exchange. Additionally, the week aims to prepare American students for global environments and to connect future leaders from across the world in learning and educational experiences.
International Education Week has been celebrated here at UT by the International House since 2011 as a part of Vol Vision. UT's IEW aims to raise awareness about other cultures, traditions and ideas, as well as diversity and inclusion.
Amanda Tompkins, the assistant director at the International House, explained that International Education Week is important because it is a way for students to gain more intercultural experiences.
"In today's society we are constantly going to engage with individuals from different cultures than our own, and we want to ensure our community leaves campus prepared to successfully engage in these interactions," Tompkins said. "IEW is a small part in helping students, staff and faculty engage in an international community whether that is attending a faculty lecture or a film screening about other cultures."
At the beginning of IEW, Tompkins explained her goals for the week and hopes that students, as well as faculty, were getting involved in some of the events that occurred over the past week.
"This will give [students and faculty] an opportunity to be introduced to international topics and ways to get more involved internationally," Tompkins said. "For example, there are plenty of workshops students can attend to learn more about study abroad opportunities or competitive international awards. There are also guest faculty lectures that discuss other cultures and can help expand people's worldview."
The International House sponsored many events throughout the week such as discussions about various topics, a town hall with representatives from China, film screenings, study abroad panels and more. Many of these events were designed to get more students involved and to educate them about global issues, as well as to discuss other cultures.
Friday, IEW will continue with a Hunger and Homelessness Summit from 8:30 a.m. until 1:30 p.m. in the Student Union ballroom. Additionally, Roger Ames will be giving a talk on ethics and individualism at 3:30 p.m. in the Hodges Library auditorium.
International House director Scott Cantrell said that International Education Week is important both on campus and on a national scale because "globalization is here to stay" in the context of discussions of diversity, which is why this week matters so much here on campus.
"International folks are coming from different backgrounds and have cross sections with different cultures…I personally think that nation to nation differences are easier to talk about than differences within our own," Cantrell said.
Cantrell said that if students and faculty want to get involved in the future, the best way is to "come to the I-House and engage in activities," such as learning more about different study abroad trips and what each trip offers.
"They can visit the study abroad resource room and find out more about opportunities abroad," Cantrell said. "Within their degree program, look for ways in which they can have new experiences and opportunities with international issues, international people and seek those opportunities out because you can't expect them to come to you."
Students as well as faculty and staff can get involved with the International House and IEW in the future by partnering with the Center for Global Engagement to host an event or plan their own.