UT Knoxville has a $1.7 billion impact on the Tennessee economy, according to a recent study by the Boyd Center for Business and Economic Research.
"For me, the really neat part about it is the state committed $211 million to University of Tennessee's base budget this past year and we were able to generate on the local economy $1.7 billion dollars," Interim Chancellor Wayne Davis said in a press conference Monday afternoon. "Now, from my standpoint, that's a pretty good return on your investment."
Prepared by Director of the Boyd Center William Fox and Assistant Professor in the Boyd Center Lawrence Kessler, the report uses detailed revenue and expenditure data to explore the ways UT impacts the state of Tennessee economically in the areas of income, jobs and tax revenue.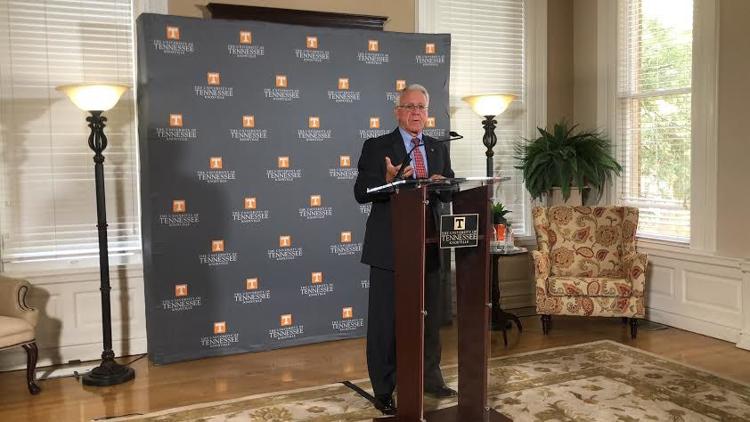 The report uses data from the fiscal year 2017, which encompasses July 1, 2016 to June 30, 2017, and showed roughly a $100 million increase from the last time a report was filed in 2015. The first report of its kind was conducted in 2009.
"We started asking the Boyd Center to generate these type of studies because it helps us to demonstrate what the true economic impact is of the University of Tennessee, Knoxville on the East Tennessee community as well as the state at large," Davis said.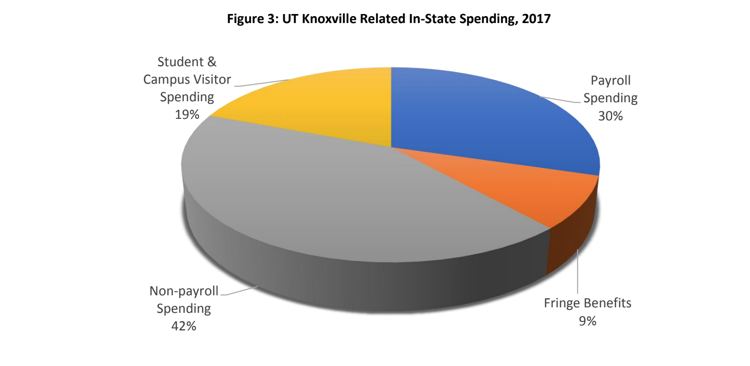 In-state spending for the fiscal year 2017 is shown in Figure 3, as provided by the Boyd Center in the report. 30 percent of UT's spending, $443.3 million, paid the salaries of its 10,088 employees in the fall of 2016. Benefits such as health and dental insurance accounted for nine percent, or $130.9 million, of UT's spending.
Campus visitors and attendees of events at Neyland Stadium and Thompson-Boling Arena spent an estimated $109.9 million, or 19 percent, of UT's 2017 in-state spending. The largest portion of spending funded non-payroll expenses including construction, utilities, equipment, supplies and maintenance repairs and off-campus spending by students and campus visitors. Non-payroll spending accounted for 42 percent, or $636.3 million.
Along with $1.7 billion in income, the report found that UT Knoxville provided 35,000 jobs and $166 million in tax revenue.
Davis attributed the economic stimulation across campus to numerous factors, including $1 billion in construction. Representing more than half of the total enrollment in the UT System, a record number of students enrolled for the 2018 fall semester. Almost $235 million was contributed in donations and gifts last year, including endowments, by alumni and other donors and research contracts were also at a record high.
"This university, the University of Tennessee, Knoxville, has had a record year this past year," Davis said.
However, Fox noted that the report highlights more than just the university itself.
"What we are trying to introduce here, though, is not the value of the university itself but what happens because of these things- research, educated labor force, culture and entertainment- are produced here," Fox said.
Cherokee Farms, the Institute of Agriculture and other UT System entities were not included in the report. Fox mentioned that the report itself was conservative.
"We're very, very conservative when we do these types of assessments...," Fox said. "You could have hired somebody else who would have given you a lot bigger number."
The goal, though, isn't to produce economic impact.
"Our goal and our mission in life at the University of Tennessee is to educate both undergraduate and graduate students," Davis said. "The byproduct of that is we do have a really serious impact on the economy of the state of Tennessee."