In a room filled with such an abundance of attendees that there weren't enough chairs to seat everyone, five women who wear hijab, and one woman who chooses not to, answered questions about their faith and their experiences wearing hijab.
UT student organization Knoxville Muslim Student Association (UTKMSA) hosted the Hijab Panel on Tuesday night, marking the second consecutive Hijab Panel that UTKMSA has organized. Dena Baker, Kamar Afra, Samira Tamimi, Alaia Masr and Sara Sultan were the featured panelists.
This event marked the beginning of Islamic Awareness Week, a weeklong event which spreads information about the Islamic faith, the experiences of Muslim students on campus and UTKMSA as an organization.
The women spoke about their time wearing hijab and the misconceptions they've faced. Although they come from different backgrounds, the five women share some beliefs regarding hijab in common.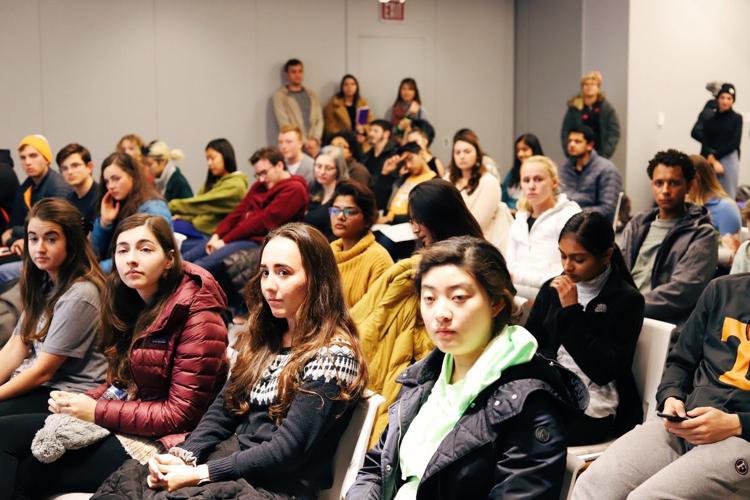 One commonality was the belief that wearing hijab is a deeply personal experience, one in which the woman has the choice to participate in or not. It is an expression of a love for God and their religion, but this love can be expressed in many ways unique to each woman.
The panelists also explained that women who choose not to wear hijab should not face any backlash from within the Muslim community.
In expanding on the possible impacts of wearing hijab in the current American political climate, the women shared the belief that although discrimination is a potential obstacle, this empowers them and strengthens their faith even more.
In explaining their purpose for wearing hijab, all women agreed that it is simply a choice they have made, the purpose of which is for hijabi women to be viewed in terms of who they are, rather than what they look like. For them, it is an act of modesty.
Samira Tamimi, a panelist and graduate student in the public health department, spoke about her intentions for the event and Islamic Awareness Week. She explained that she hopes the week's programming and the Hijab Panel provide different viewpoints on Islam and also clarify the role that hijab can play in a woman's life.
Tamimi also touched on education and awareness as themes of the panel, adding that she thinks many people may be misinformed about wearing hijab.
"I think there are a lot of misconceptions," Tamimi said.
Tamimi added that the goal of the panel was to offer individualized and personalized views of hijab.
"Our ideal thing was to basically just give perspectives from personal points of view so that it humanizes it," Tamimi said.
The room was filled with attendees of all backgrounds, one of whom was Alexa Nouvel, a senior majoring in psychology. She spoke about her experience as a listener of the panel.
"I originally wanted to come to the event to support UTKMSA and just to gain more experience. I took some religious classes my freshman year, and I was interested in the culture," Nouvel said.
Nouvel also discussed the impact of the event and her own participation as an attendee of the panel.
"I was interested in hearing these women's experiences, especially on campus. It was very empowering to hear their personal experiences," Nouvel said.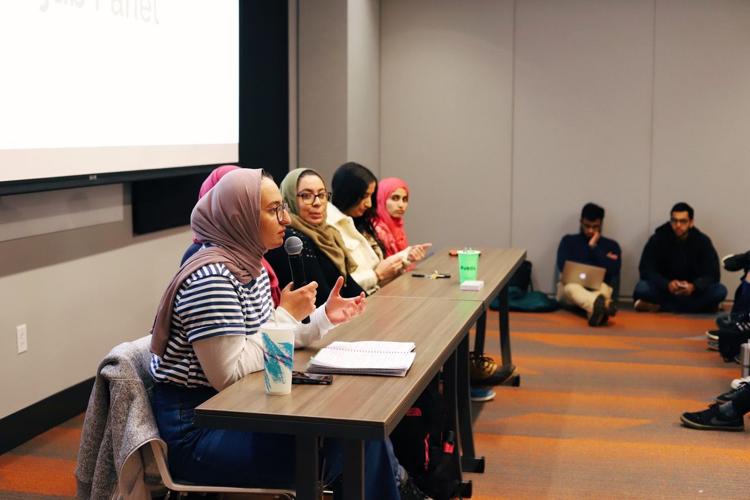 While there are still some misconceptions in American society surrounding the Islamic faith as well as women who wear hijab, UTKMSA and the Hijab Panel helped to bridge the gap and educate both students and the public about the Muslim community here on campus.
Later this week, UTKMSA is hosting Fastathon as another event in Islamic Awareness Week, which they encourage all students to spread awareness about. For more information, please visit their Facebook page.