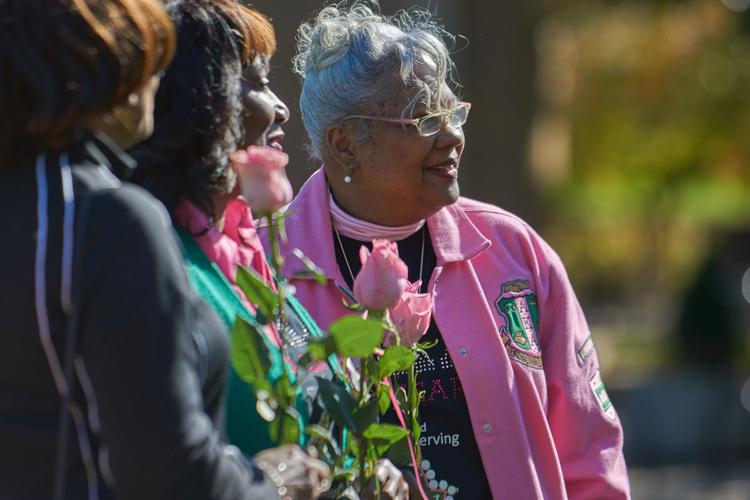 Nationally founded in 1908, Zeta Delta chapter of Alpha Kappa Alpha Sorority, Inc. began on UT's campus 50 years ago, in 1970.
Former Vice President and President Taylor Washington gave insight into the mission and growth of UT's chapter.
"Alpha Kappa Alpha's mission is to cultivate and encourage high scholastic and ethical standards, to promote unity and friendship among college women, to study and help alleviate problems concerning girls and women in order to improve their social stature, to maintain a progressive interest in college life and to be of 'Service to All Mankind,'" Washington said.
Alpha Kappa Alpha (AKA) and Omega Psi Phi were the first two organizations in the National Pan-Hellenic Council (NPHC) on campus, both founded in 1970, according to the Office of Sorority and Fraternity Life. The council has eight different chapters, all of which have different goals and missions.
Upon her arrival to campus, Washington decided to join AKA for the sorority's past members and their philanthropic work.
"I decided to join this sorority because when I looked around my life and did my research almost all of my role models were AKAs. Additionally, the motto of Service to All Mankind really resonated with me. I enjoy our flexibility of not being tied to one philanthropic entity and being able to provide for whatever cause needs us most in the present time," Washington said.
On campus, Zeta Delta chapter's accolades include the first black UT Homecoming Queen and 16 Torchbearers, a prestigious award given to a small number of seniors who have shown excellence during their time at the university.
According to the Office of Fraternity and Sorority Life, AKA's chapter grade point average was a 3.01 which places them in the top half of all NPHC organizations.
In their 50th year on campus, Alpha Kappa Alpha will expand their reach to alumnae and the community.
"Zeta Delta plans to join alumni and current members to recognize our accomplishments. Through a series of social media movements and events on campus, we plan to educate and inform the campus community about the good things Zeta Delta has done and will continue to do," Washington said.
Looking forward, Washington wants to see AKA push further into the Knoxville community in new ways.
"In the future, I see AKA as an organization impacting more lives, and Zeta Delta reaching out more into the Knoxville community and partnering with more organizations on campus that are outside of our comfort zone," Washington said.
In November 2019, ground broke on nine monuments dedicated to each of the NPHC organizations which was a step toward increased inclusion and public recognition for the work members do.