Country music superstar Garth Brooks came to Knoxville Saturday night and drew a record-breaking crowd to his Neyland Stadium concert. The performance, part of Brooks' stadium tour, was the first concert to be hosted in Neyland in 16 years.
Country star Jon Pardi opened for Brooks, drawing acclaim from the large crowd.
Jessica Walls, a concert goer and Jon Pardi fan, spoke positively of his performance.
"It was really good. [Pardi] has a lot of energy, and he really brought that out tonight," Walls said.
After Pardi left the stage and a brief intermission was held, Brooks came on stage while "Rocky Top" played in the background.
Garth Brooks Concert in Neyland Stadium
For the rest of the evening, Brooks commanded the stage in an electric performance that drew thunderous applause from the record-breaking audience.
Brooks began his performance by singing "All Day Long," one of Brooks's newer songs from an upcoming album titled "Fun."
In between roaring applause, Brooks did a cover of the Nitty Gritty Dirt Band's 1987 song "Fishin' in the Dark"
Brooks showed off his UT spirit, discussing how excited he was to get to step inside Neyland Stadium. He even went so far as to don a UT flag, wrapping it around his shoulders, garnering a powerful response from the spirited audience.
Days before coming to Knoxville, Brooks won the Country Music Association's' Entertainer of the Year Award. He discussed this briefly on stage, stating that going into the CMAs, he knew that whether he won the award or not, he had his Neyland Stadium concert to look forward to.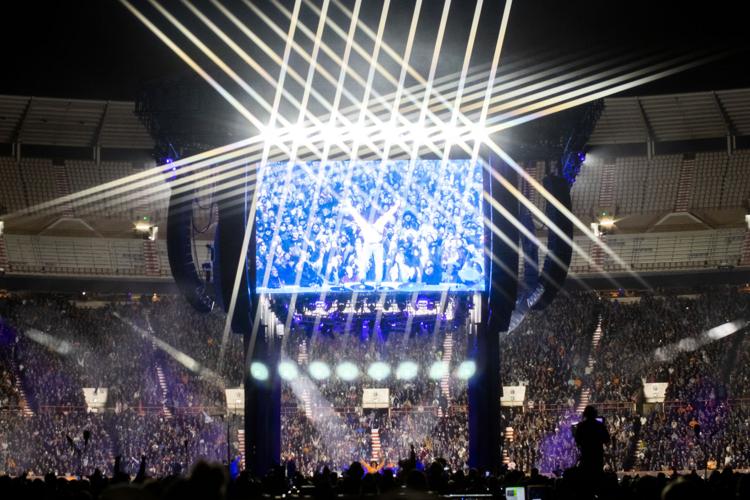 Brooks took great pride in introducing his fellow musicians and crew members, such as Gordan Kennedy on the guitar, Blair Masters on the organ and accordion, Jimmy Mattingly on the fiddle, Mark Greenwood on bass guitar, Mike Palmer on drums, Steve McClure on steel guitar, Dave Gant on keyboard and fiddle and Robert Bailey and Vicki Hampton on backup vocals.
Bailey and Hampton added soulful and powerful background vocals to Brooks' performance. When introducing Hampton, Brooks discussed Hampton's talent.
"[Hampton] is timeless, and she's known as the boss around here," Brooks said.
Overall, Garth Brooks really knows how to put on a show. The lighting was incredible, especially during the song "The Thunder Rolls," a single from his album "No Fences," released in 1991.
Toward the end of the show, Brooks sang one of his most popular songs "Friends in Low Places." Released in 1990, the song won several accolades and put Brooks on the map.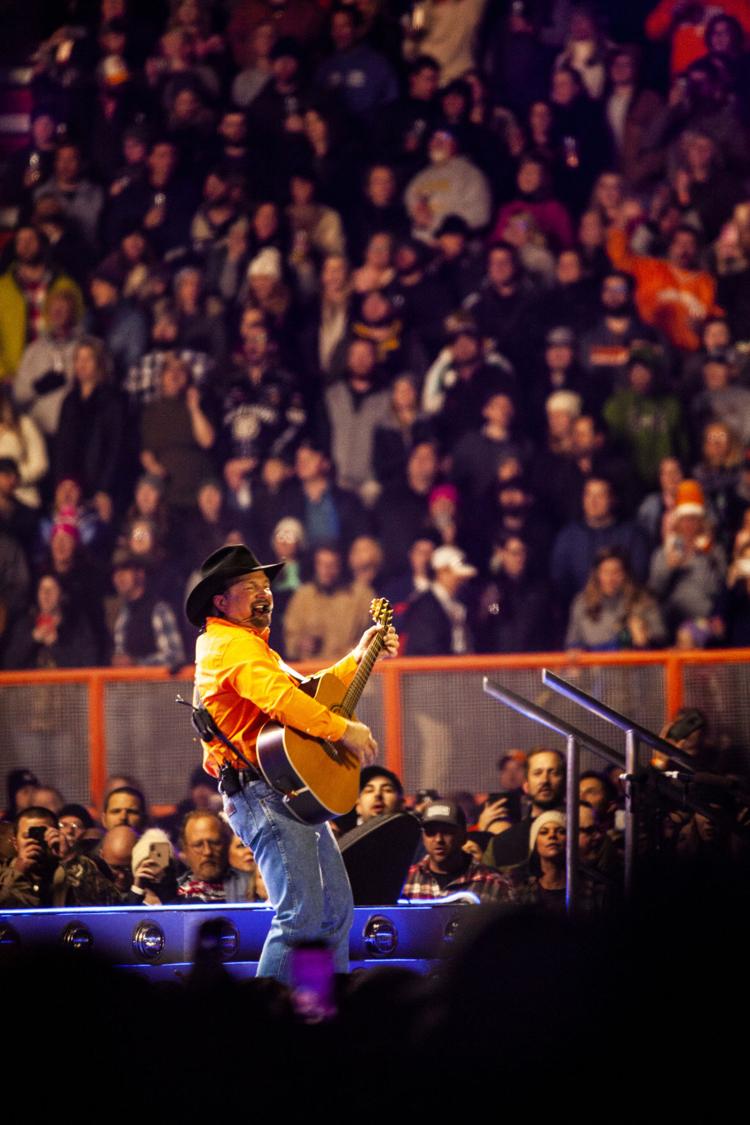 Amidst a flourish of streamers and confetti, Brooks sang his popular song, pausing briefly before the last verse to once more acknowledge his Volunteer spirit.
"Before we approach this next verse, all I'm gonna say is go Vols," Brooks said.
With record breaking crowds, a setlist compiled of old and new songs and incredible graphics and light displays, Garth Brooks truly brought music back to Neyland.