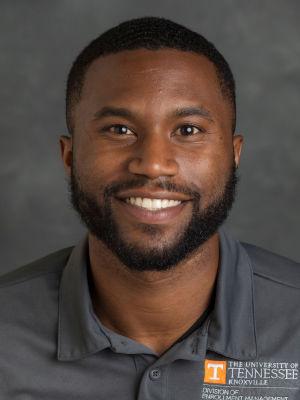 When thinking about a college admissions counselor, many wouldn't picture a UT alumnus who was put on academic probation and works part-time as a DJ, but Julian Wright is exactly that.
After graduating from UT, Wright landed a job in the Office of Admissions, where he specializes in recruiting Southeast Tennessee high school students to the university.
While Wright's journey at UT has now come full-circle, the road that led him to where he is today was not an easy one.
What did come easy, however, was Wright's decision to attend the University of Tennessee.
"I had so many people from my hometown choosing UT, that I had an interest. My mom is a UT alumnus. So that also led me to research what the school could potentially offer me," Wright said. "I attended the JUMP Overnight Program, hosted by the Minority Enhancement for UT student recruitment program, and it solidified everything for me; I was going to be a Vol."
Wright was able to keep his head above the water during his first two years attending UT. However, when his junior year rolled around, things took a turn for the worse.
"I was placed on academic probation during my junior year. I could not find a balance between my full-time job and college," Wright said. "I was already a pretty average student, so this brought me way down! Things got complicated for me to handle, as I moved off campus too early, I'd now say."
After being placed on academic probation, Wright left the university feeling hopeless and defeated. Returning home was hard and admitting to his mother that he had flunked out of the university was even harder.
Once Wright was readmitted to UT, he was more determined than ever to get his degree and prove to his family that he could achieve his goals.
"In honesty, me and my siblings were all released from school the same year, I think. At that moment I knew, I had to get a degree. I watched my parents invest too much money, time, patience and prayer to us for no one to get a degree," Wright said.
Wright added that overall, he was motivated to return to UT in order to complete his own goals.
"Most importantly, it was for me, to feel accomplished and reach my goals," Wright said. "Waited a year and reapplied because I had to finish, I needed my degree."
In 2015, Wright graduated with the degree he had worked so hard for: a bachelor's degree from the School of Journalism and Electronic Media.
Now that Wright works for UT, he can give back to the University that gave him a second chance. In addition to working with admissions and as a registered university DJ, Wright currently serves as the co-advisor of Minority Enhancement For UT and as the co-advisor for the College of Communication and Information's Diversity Student Leaders Society.
Wright's impact on campus is one that reaches far and wide. Through working as an admissions counselor and an advisor, he helps students in a variety of ways.
Freshman Jesse Osborne met Wright while attending the UTLSI program this summer and said Wright is "one of the most genuine people you can ever get to know."
Osborne elaborated on Wright's positive qualities.
"Ever since I met him this summer, he's been a cool and honest person that gives it to you straight," Osborne said. "He's been through a lot, so if you ever need advice he's a great person to go to. Hats off to him."
While Wright's academic career has now come to an end, he still offers advice to current students, especially students who have been placed on academic probation.
"For students who reach academic probation, my biggest advice is two words; Breathe. Ask," Wright said. "Take time, think, reroute, commit to a plan, focus and bounce back! Probation means, you have a chance to overcome the struggle."
Wright uses his own college experience as a way to motivate his students to push through difficult times.
"It's college, so of course 'The struggle is real,'" Wright said. "But as I tell my students all the time, if I can graduate from UT, trust me, you can graduate from here too. I love you and believe in you."