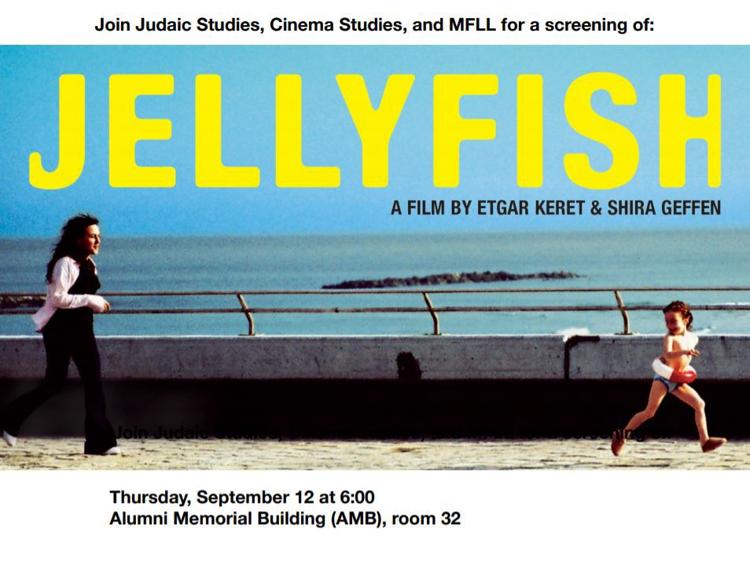 Thursday evening's screening of Jellyfish (2007) was organized by Assistant Professor of Modern Foreign Languages Dr. Drew Paul. This event was put on to introduce students to Israeli film in anticipation of a visiting Israeli director.
"We have Etgar Keret, one of the co-directors, coming on Monday. We wanted to introduce his best-known film," Paul said.
Dr. Paul thinks that Keret's event on Monday will be one that gives students the opportunity to learn about a writer and artist from a part of the world that they may not be familiar with and potentially may open UT students' eyes to a new perspective.
A student of Paul's, senior Micho McKinney, seems to already have open eyes, having heard about the event in her class, ARAB 251: Whole New Worlds: Fantasy, Sci-Fi and Dystopia in the Middle East.
"I am just really interested in foreign film in general, and I thought it would be really cool to check out," McKinney said
Now, onto the review.
There is a moment, in the cult French film Le Fabuleux Destin d'Amelie Poulain in which the titular character shares her love of turning around at the cinema to watch the reactions of the audience.
Jellyfish is one of those movies in which I would highly recommend doing so.
Jellyfish, from the combined minds of artist couple Etgar Keret and Shira Geffen, follows the stories of three women. One, a waitress, comes across a little girl who comes from the sea. Another, a newlywed bride with a broken leg, sits in her honeymoon suite while her husband "explores." Finally, a Filipino nurse with no patient and very little Hebrew tries to navigate Israel while 5,571 miles away from her toddler son. These women all attend the same wedding but never directly interact. It's this lack of interaction that cements the film in the canon of Israeli and Arabic speculative fiction.
The isolation of these women plays a huge role in the film, as well as the genre. Each of the women's stories involve either someone entering or leaving their lives, for better or worse. When the little girl emerged from the sea, I quickly scanned the faces of those in the audience. Some faces held bemusement, while others held quizzical smiles. When misfortune fell upon any of the characters, such as the bride injuring her leg, grimaces spread throughout AMB 32. It's this range of emotion that Keret is known for, whether it be through his written or film work.
The score of Jellyfish reflects this widely varying range of emotion. The film opens and ends with a Hebrew cover of Edith Piaf's "La Vie En Rose," a song that traditionally carries a mixed-meaning. "La Vie En Rose" roughly translates to "life in pink," but the song became popular due to survivors of WWII. Its use in this film felt at home to me, as Israel literally became a state due to the atrocities that occurred in WWII.
It is this attention to detail that won Jellyfish the esteemed Camera d'Or Award at the 2007 Cannes Film Festival, and a fairly high ranking from yours truly.
⅘ Stars
For more information about Etgar Keret's visit on Monday, click here.