Kathryn "Katie" Garapic often struggled with creative confidence before her decorative graduation cap business was born three years ago.
As a Residence Assistant in Clement Hall, Garapic was in charge of creating bulletin boards and posters to put up around the building.
Garapic's friend and fellow RA Christi Pugh took notice of the exquisite calligraphy work done on the bulletin boards in Garapic's hall and asked her to hand letter a quote onto her graduation cap.
Although Garapic had only just started painting in order to create beautiful designs for her hall, Garapic agreed to paint Pugh's cap with a design of the quote, 'The best is yet to come,' and Garapic found a passion she never expected.
Pugh self-described herself as "Katie's biggest fan" and still cherishes her custom cap years after graduation.
"When I got the final product, I was truly blown away. She took my idea and made it ten times better. It's been a couple years since I graduated, but I continue to be amazed by the grad caps Katie creates and how far she's grown her little business," Pugh said.
Garapic posted Pugh's cap to the UTK Girls Buy Sell Trade page on Facebook. From this one post, Garapic's business took off, and now 90% of Garapic's business is done through this page, where she continues to sell individualized grad caps that start at $25.
Garapic explained that she also receives a lot of business attention from UTK's Instagram account.
"The UTK Instagram page has picked up my name and posts my caps often. I've been so lucky to have them take care of a lot of my advertising, since they have almost 100,000 followers," Garapic said.
Garapic has learned through her business that cap designs are often inspired by deep messages.
"I never expected to touch lives by painting flowers and doing calligraphy, but people come to me with the most touching stories and want them memorialized on their grad caps," Garapic said.
Garapic's favorite designs to complete are tributes to passed relatives and social justice commissions, such as the time she painted the cover of the novel "Brown Girl Dreaming" by Jacqueline Woodson on a cap and was recognized on Instagram by Woodson.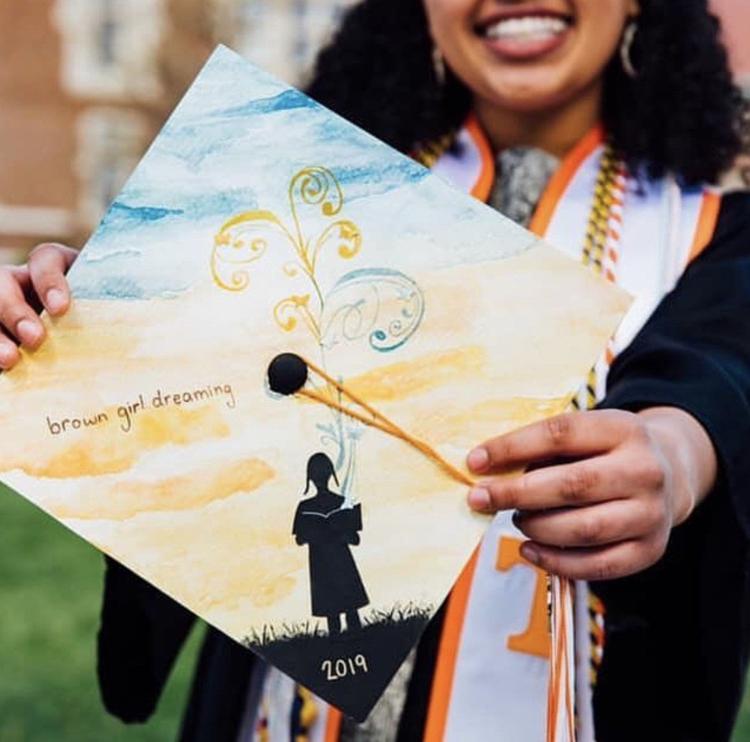 "I felt so honored to be trusted as an ally and to have been given the opportunity to create that cap. Bringing people's stories to life on one of the biggest days of their lives is so humbling," Garapic said.
Garapic's most popular design, with over 200 commissions, is painted with the popular feminist phrase, "Nevertheless, She Persisted."
Garapic explained why she likes this particular design.
"I love lifting up strong women and creating something beautiful to celebrate their massive achievement," Garapic said.
Although Garapic's designs are often inspirational, Garapic also receives orders with a more humorous note, such as quotes from the popular television show "The Office"and designs of popular memes.
With over 1,000 followers on Garapic's art Instagram called @donttreadonmythread, it is clear to see that Garapic's hobby from three years ago has turned into a flourishing business.
As a sociology major, Garapic never expected artistry to become a source of income, and she is grateful for the opportunity.
"I realized I could help pay the bills with the skills I'd learned, and I feel so honored to have the platform I do," Garapic said.