For four of the last five years, Sex Week has received more funding from the former Student Programming Allocation Committee (SPAC) than any other registered student organization on campus.
In the 2016-2017 school year alone, Sex Week received $29,800 to put on their annual week of sex education programming. But now, after a damaging report on Sex Week by the state's Comptroller of the Treasury last Spring and the disbandment of SPAC, Sex Week's main source of funding has effectively been cut off.
At the beginning of the academic year, Sex Week's executive board set up a GoFundMe page to crowdsource funding. As of now, $2,765 of the $13,000 goal has been raised by over 40 donors.
Sydney Peay, co-chair of Sexual Empowerment and Awareness at Tennessee (SEAT), the organization that puts on Sex Week, is confident that the program will go on in the spring without a hitch.
"Even if we don't raise our goal, even if we don't reach it entirely ... we're still going to make Sex Week happen. It might look different, but this is a need that has to be met on this campus," Peay said.
And what is this need for Sex Week meeting on campus? According to Peay and many others who work for SEAT, the program fills a gap in students' understanding of sex and gender that is left by public school systems and the pervasive societal stigma surrounding issues of sexuality. And with event titles such as "Butt Stuff" and "Black Feminist Thot," they do so in both a fun and educational way, Peay said.
"We entice [students] with flashy titles and then they show up, and it's actual scientifically-backed things by people with degrees," Peay said. "We try to bring really great speakers who are able to answer a wide range of questions."
Not everyone is on board with Sex Week's unconventional way of educating students.
In his appearance before the Tennessee House Education Committee last February, UT Interim President Randy Boyd made it clear that the university does not "condone" Sex Week and wishes that the organization would tone down their programming, which many members of the state legislation and administration of UT have described as "disgusting" and "explicit."
In a statement to the Beacon, Boyd made it clear that no one is being silenced, and free speech is still the operative principle where student organizations are concerned.
"I have full confidence that our university leaders and students have come together to create an equitable process that will allow students to continue to lead and express themselves in a way that provides value and needed help on very critical issues," Boyd said.
Even in the face of such calls to change their programming, Peay says that SEAT is not planning on "toning it down" anytime soon.
"You know, students aren't exactly showing up for health programming if it's not fun, so we try our best to make our events very engaging," Peay said. "Let's talk about it in the terms students are using."
SEAT has hope that students will help crowdsource funding for their speaking events in the spring either through GoFundMe or other means. Peay sees it as appropriate that an organization dedicated to helping teach students about sexuality should be funded primarily by students.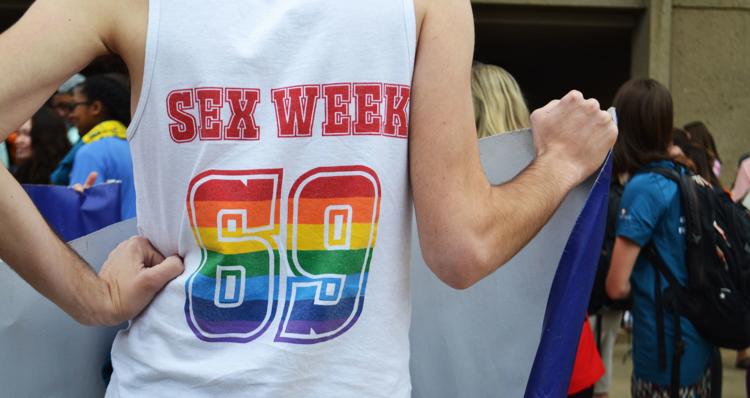 "We're here for students, and if students care about Sex Week, then we love all of their support," Peay said. "It's really as simple as that."