A piano concert titled From Russia With Love was put on by the School of Music as its second concert in its 2019-2020 season. The performance featured music by Russian composer Sergei Rachmaninov.
26 years ago, the famed Rachmaninov performed his last concert here at UT. He played in the Alumni Memorial Gym, which is known today as the Alumni Memorial Building.
He is immortalized as a statue in World's Fair Park, where he continues to inspire guests, students and faculty alike, as was proven on Friday night by UT's own Sandra G. Powell Endowed Professor Chih-Long Hu and guest artists Pei-Chun Liao and Grace Chung.
From Russia with Love: Pei-Chun Liao, Grace Chung and Chih-Long Hu
Grace Chung is a professor of piano at the Tainan National University of the Arts in Taiwan.
She debuted as a soloist at the Boston Philharmonic Orchestra and has also performed at Carnegie Hall, Juilliard Orchestra and Merkin Hall. She has been recognized for her talents at events like the Juilliard Piano Concerto Competition, the Seventh International Chopin Piano Competition in Taiwan, the Yamaha Young Artist Competition and more.
Pei-Chun Liao is an assistant professor on the piano faculty at the University of Taipei.
She is also very accomplished, performing at venues including the Birmingham Symphony Hall, Manchester Peel Hall and Mozarteum Wiener Saal. Her accolades include being selected as the Young Star of the National Concert Hall in her home country of Taiwan.
Chih-Long Hu, a tenured professor, has an impressive background as well. He has received myriad awards, such as the Taipei National Concert Hall Arising Star, the Chi-Mei Artist Award and San Jose International Piano Competition in California. He was also named 2013's Teacher of the Year by the Tennessee Music Teachers Association.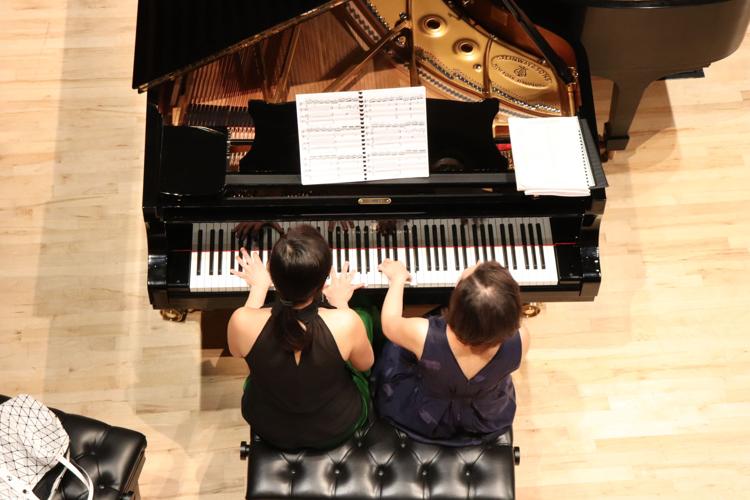 These pianists amassed a wide array of personalities in the audience, both familiar with the musical composer Rachmaninov and not.
Freshman Christopher McNnane Jr. came to the event solely because his friend told him about it, and since it was free, he decided to attend.
"I've been to classical music concerts before," McNnane said, "but never to a Rachmaninov recital."
McNnane's friend, fellow freshman Annie Liu, had a different approach to why she decided to attend.
"I have loved Rachmaninov for a long time," Liu said, "His pieces have so much emotion in them that I feel isn't present in contemporary music. I also just wanted something chill to do on a Friday night."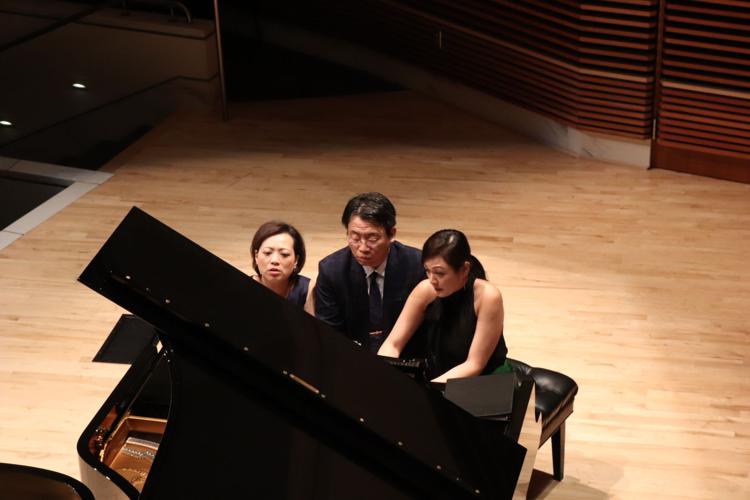 Another spectator, freshman Jessie Li, was well-versed in the work and life of Rachmaninov.
"As a classically trained pianist, I have always loved music by Rachmaninov. I have seen Dr. Hu in concert at the Bijou Theatre, and he is a very accomplished and talented pianist. His phrasing is always so emotive. I really wanted to see him play Rachmaninov, and I also really love music for two pianos," Li said.
Once the recital started, an atmosphere of melancholic lightness fell over the crowd, inspired by the trills in some of Rachmaninov's pieces.
The attention to detail was incredible; Rachmaninov only performed on Steinway pianos because Steinway was the only company who did not try to pay him to play their piano while on tour, and the pianists featured on Friday night followed this tradition.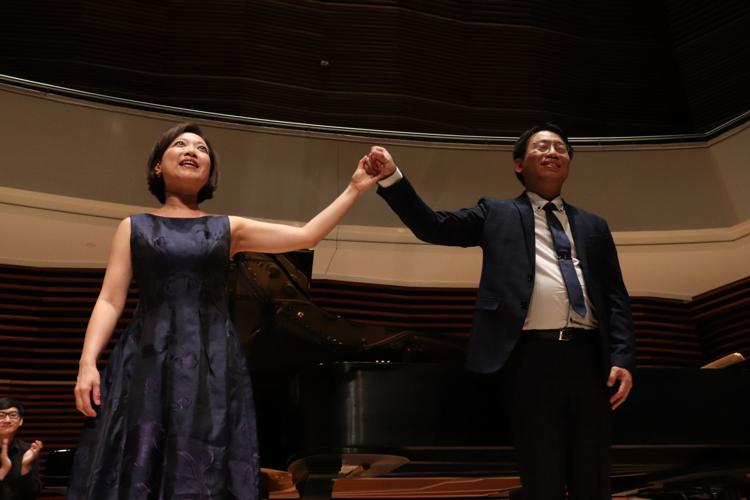 Discussion of these details wandered out into the lobby of the music center during intermission, where a small crowd of passerby-turned-spectators had gathered to watch the live feed being broadcast outside of the auditorium.
Annie Liu gushed over the emotion expressed by Grace Chung, who had risen out of her seat while playing.
"I feel content and happy and emotional," Liu said.
McNnane Jr. also summed up the emotion expressed by the performers.
"I am really glad I went. Most people listen to music while running errands or just walking around, but going to an event devoted to just listening to music allows it to connect to your mind. Grace Chung and Dr. Hu played with such a passion that emotions I cannot even describe welled up within me," McNnane Jr. said.
Rachmaninov's presence was certainly felt at this recital, as was expressed by both the pianists and the audience.