225 years ago today, the University of Tennessee was officially founded. Hundreds of faculty, staff and students gathered in HSS plaza, despite the blazing temperatures, to celebrate the anniversary with a Big Orange Birthday Party, one of the many events planned to commemorate UT's history.
The celebration remained true to its name; event organizers donning bright orange polos, with the 225th anniversary logo embroidered upon them, dotted the venue. Additionally, two long tables of refreshments featured an arrangement of almost solely orange delicacies, including carrots, queso, orange chunks of cheese, orange cupcakes and even orange punch.
A large arrangement of activities was also available on the plaza. There were several inflatable attractions, including a bouncy house, a water balloon war area and two human-sized hamster balls. Several stacks of giant legos, a zip line, a model car track and a game of pin the tail on Smokey were also available.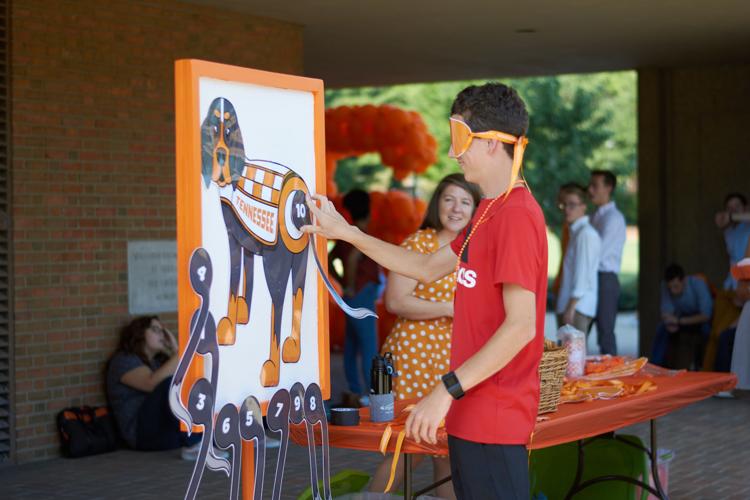 The celebration was extremely popular; a line of attendees waiting to register for the event was stretched from the back of HSS plaza, near Volunteer Boulevard, to HSS amphitheater before 11:30 a.m., the time that the event was scheduled to begin.
Freshman student Samantha Ledbetter braved the heat to come enjoy the entertainment and participated in pin the tail on Smokey, which she did successfully and won a prize.
Ledbetter explained that celebrating anniversaries is an important way to commemorate UT's past.
"(It's important to hold these events) so we don't forget how important it is to celebrate birthdays. It's important to celebrate our history," Ledbetter said.
Beth Gladden, one of the event's coordinators, explained that a committee has been planning the celebration for UT's 225th anniversary since last summer. The group worked to design logos, plan events and spread the word about the upcoming celebrations.
Gladden stated that it's important to celebrate the fact that UT has played such a vital role in higher education for such a long period of time.
"This university has been here and has been impacting the country and the state and the world for such a long time, and it's important that we celebrate our time that we've been around and look toward the future and what's the vision and where are we going next," Gladden said. "All of this year long celebrating really gives us a time to think about all of those — how we already contributed and how we're going to contribute in the future."
Gladden hoped that the Big Orange Birthday Party would serve as a fun celebration for not just students, but also faculty, staff, alumni and more.
"We really just wanted ways that we could invite our entire UT community to be a part of this," Gladden said.
Student body president Natalie Campbell addressed the crowd at the beginning of the event. She discussed how honored she felt to be celebrating among UT students and how special the students at this university are.
"It's a great time to celebrate our history, our roots and be intentional about where we want to go moving forward. We can reflect on what makes this place unique, and what makes this place so unique is the people we have here," Campbell said.
Chancellor Donde Plowman and Interim President Randy Boyd were also both in attendance at the event and addressed the crowd to wish UT a very happy birthday.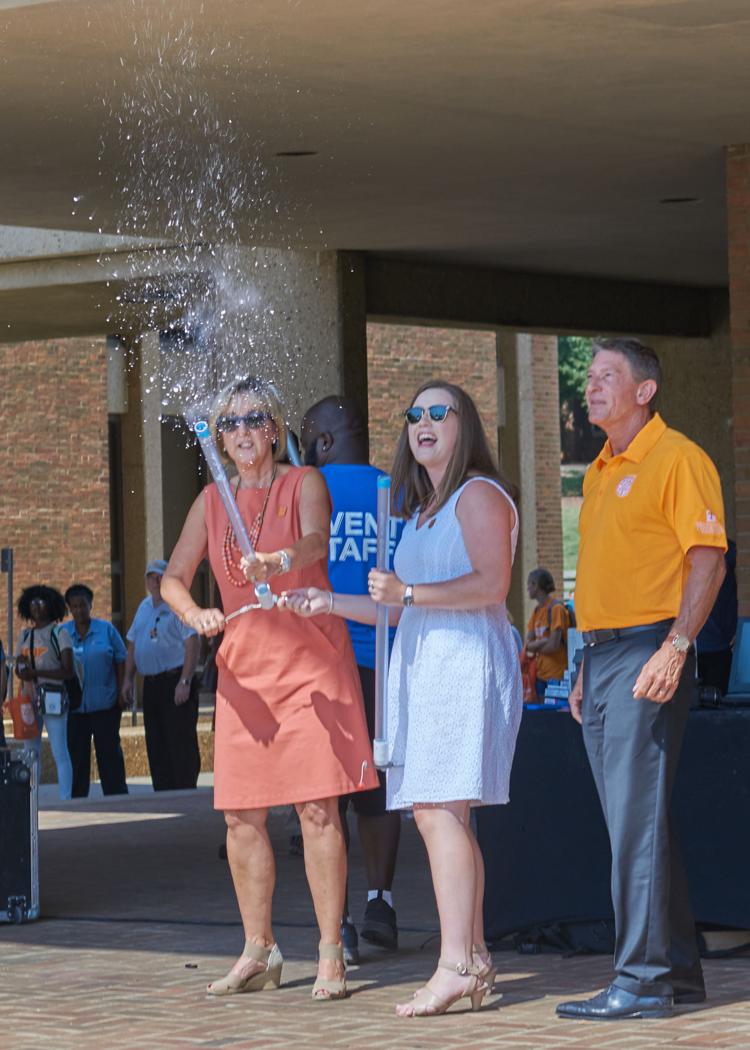 Chancellor Plowman explained that UT's birthday serves as a celebration of the university's commitment to accessible and public higher education.
"For 225 years, the people in this region and what came to be the state of Tennessee have made good on the promise that a higher education college degree is accessible and available to everyone, and that's a lot to celebrate," Plowman said.
She also discussed the young boy from Florida who was recently bullied for wearing his homemade UT shirt on college t-shirt day at his school. After news about the boy went viral online, UT took action and sent him a care package with UT swag and also announced plans to sell a t-shirt based off of the boy's design at the VolShop. Additionally, UT junior studying special education Natalie Campbell  painted the Rock with the design from the boy's t-shirt.
Plowman was proud that the UT Volunteer spirit is being used to do good outside of campus.
"We're excited that the world now knows even better than they did before what it means to be a volunteer," Plowman said. "So go Vols, and happy birthday!"
Like student body president Natalie Campbell, President Boyd commended UT on 225 years of education while also considering the future.
"As proud as we all are of our tradition and of everything we've done in the past, I'm even more excited about the decades to come, and with all of your help, we're going to make the next decade the best decade in the history of the University of Tennessee," Boyd said.
The UT Singers then came on stage to sing a cappella renditions of "Happy Birthday" and "Rocky Top." After their performances, Campbell, Plowman and Boyd, along with the UT Singers, shot streamers guns filled with orange and white streamers onto the plaza, officially beginning the celebrations.