Samantha Ramsey is nothing like most aspiring aerospace engineers. For starters, she is a woman pursuing a career in a field overwhelmingly dominated by men. But Ramsey is also a first generation college student who grew up in a South Carolina community so rural that the nearest grocery store was an hour drive away.
Now, after spending ten years waiting tables and working at non-profits since graduating high school, she has returned to complete her undergrad degree in UT's department of Mechanical, Aerospace and Biomedical Engineering (MABE) and has quickly risen within the program.
This year alone, Ramsey, who is currently a junior at UT, has worked both to complete a summer internship with NASA and attend the 70th annual International Astronautical Congress in Washington, D.C. as a diversity scholar.
But unlike some other interns who have been dreaming of working with NASA since they were young, Ramsey did not always see herself working in deep space exploration. For one thing, her childhood lacked the exposure necessary to fuel her engineer's imagination, she explained.
"Most engineering students come from families with engineering backgrounds, and there's an inherent advantage there, because they're already exposed to this world," Ramsey said. "I didn't know what an engineer was until I was probably 25 years old."
For Ramsey, the path from Adams Run, South Carolina to Washington, D.C. was instead paved with small moments of wonder and clarity. Originally planning to study English, she was introduced to the complex world of orbital mechanics and hyperbolic trajectories while watching a documentary on the Voyager space probe program.
As she tells it, she quickly fell in love with the idea of calculating exactly how to slingshot a probe throughout outer space, and she set to work pursuing a career where she could do just that.
Another propelling moment came last spring, when Ramsey went to Huntsville, Alabama on an engineering VOLTrek trip with the Center for Career Development.
While introducing herself before a group of NASA aerospace engineers, she expressed interest in orbital mechanics and trajectories, a niche field infamous for the difficult mathematics it requires. Upon hearing this, an excited engineer encouraged Ramsey to apply for a summer internship and she was accepted shortly after.
In addition to landing the unique trajectory internship, Ramsey also received a scholarship to attend the 70th annual International Astronautical Congress in D.C. in October, where she met with aerospace engineers from around the world, glimpsed the latest innovations in space craft and virtual reality and even got to meet Bill Nye the Science Guy at a private party.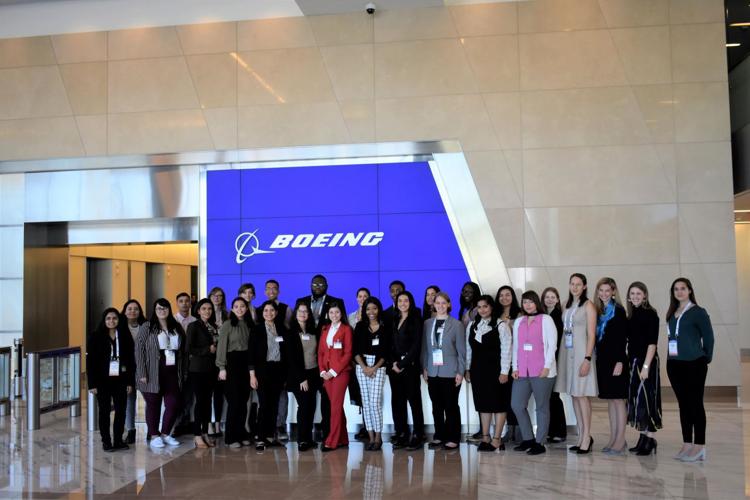 It is not lost on Ramsey that these opportunities are rare for a student from her background, and she wants to advocate for students like herself who did not grow up with the privilege of coming from highly-resourced urban areas or families. Part of this advocacy is spreading awareness of the possibilities of a career in STEM and space exploration to young girls in rural places.
"The kids who really need that outreach are still not getting it. I firmly believe that intelligence and ability and talent don't discriminate, but the opportunities still do," Ramsey said.
Every Tuesday, Ramsey drives one hour with her sponsor and mentor, Dr. Stephanie TerMaath, to rural Barlow Elementary School to lead an after school program that introduces underprivileged fourth and fifth grade girls to the wonder of science.
TerMaath, an assistant professor in the department of Mechanical, Aerospace and Biomedical Engineering (MABE), sponsors Ramsey's current undergraduate research with NASA and sees her as an outlier in the program, both for her intellect and her heart.
"Not only is she excelling as a student, she is dedicated to helping others," TerMaath said. "She is an inspiration who has proved that with motivation and hard work, adversity can be overcome and dreams realized."
When Ramsey is not working on the "brutal" schoolwork involved with a degree in aerospace engineering, she is working on independent projects, which include women in STEM advocacy, creating a simulation to help track the location of the International Space Station and even working through a graduate-level textbook.
As an undergraduate who is quite a few years older than her peers, Ramsey believes it comes more naturally to her to be so career oriented. However, she also encourages younger students to use their precious free time to pursue their passions outside the classroom.
"Focus less on social stuff and even academics and try and get involved in extracurricular things that might be career relevant to you," Ramsey said. "The experiences that I've gotten to have are 100% because I've sought them out outside my education and worked for it in my free time."
All of these independent experiences have caused Ramsey to have a minor slip in GPA, but just like every other setback in her life, she works on unfazed. From NASA to helping young girls achieve their dreams, it is all part of her uncommon education.