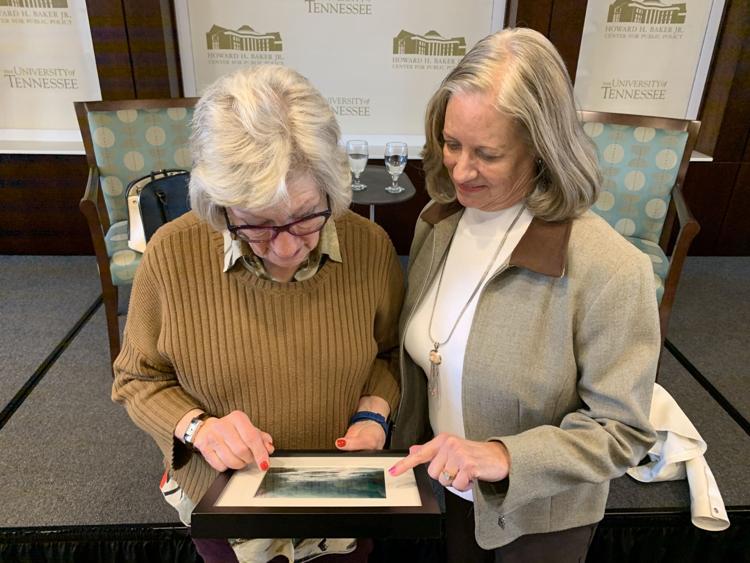 Decorated journalist Georgiana Vines has been a part of political journalism for over 50 years. TheFriends of Literacy East Tennessee Writers Hall of Fame inductee published her novel "East Tennessee Newsmakers: Where are They Now?" in 2019. After retiring in 2005, she later was coaxed into publishing a collection of her columns, and her book was born.
Investigative journalist John North conducted conversation about the book with Vines and an audience at the Howard Baker Center on Tuesday morning. Vines jumped right into her first topic of discussion by introducing the chapter that is about Lamar Alexander.
A special guest Melanie Staten sat in the crowd. Staten's entire education and career have their very own chapter in Vines' book. Staten was a University of Tennessee graduate who found herself working for U.S. President Gerald Ford's administration just one year after graduation. Vines discussed the trials Staten must have faced being a 22-year-old woman in journalism in the 1970s.
Staten offered advice about career opportunities to any future young journalists in the crowd.
"Don't be afraid as a young journalist to pick up the phone. A lot of younger people I find are hiding behind social media. We didn't have that when I graduated from UT. When I got to the White House all we had was the phone," Staten said.
Vines then talked about those she interviewed within the Baker family and her experiences with them. Vines shared with the audience how difficult Cynthia "Cissy" Baker, the daughter of former U.S. senator and UT alumnus Howard Baker, was to get ahold of, but how she persisted until she was able to speak with her.
Vines then continued to share how much she enjoyed speaking with Nancy Kassebaum Baker, former U.S. senator and wife of Howard Baker, and the time she spent interviewing her before she moved back to Kentucky.
The book demonstrates not only Vines' writing abilities but also some of her photography work. Vines admitted she enjoyed photography, and most of the pictures in her book were taken by her. She shared the importance of being skilled in several areas of journalism and how they work hand-in-hand.
Vines discussed being a woman in college during the 1950s and how she was expected to major in education or nursing. However, during her senior year of high school, she had an experience that made her believe that journalism can make a difference, truly foreshadowing the impact she would later have in the news field.
Vines explained that while nowadays there are more women in journalism, there are still areas of the profession where women are underrepresented.
"There are now more women starting off in journalism as reporters or photographers, but there still aren't a lot of women in management. I think that's complicated. Sometimes women don't have the confidence in themselves to pursue jobs in management where there is more money. But it's also the place where you can influence what gets in the paper, or on TV, or radio. I think if you believe in something you just keep pursuing it," Vines said.
Vines closed by explaining that she knew from a young age that she was nosy and sharing how she turned that quality into a career. Vines was a trailblazer for women in journalism, specifically political writing, and has been honored greatly for her work.