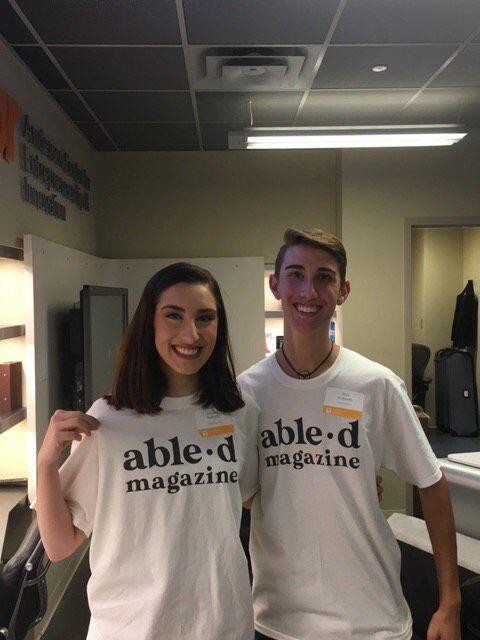 UT alumna Lindsey NeSmith and her younger brother, sophomore Will NeSmith, are siblings who have, as the saying goes, seen a need and are working to fill it.
The seeing part came when Will suddenly developed a disability at the age of 12 due to complications from a stroke. Lindsey NeSmith says that this event completely changed the way their family viewed disabilities.
"It was a major focus shift for us when we all of a sudden became aware that it was so easy for us to live in ... oblivion because we didn't have to deal with disabilities until, you know, until we did," NeSmith said.
The filling part comes with the launch of their startup publication "Abled Magazine" later this spring, which the NeSmith siblings hope will celebrate the lives of people with disabilities and fill the gap in non-medical information on disabilities that their family fell through when Will developed a disability.
Though it may seem as if medical considerations are the central part of living with a disability, the NeSmith family quickly discovered that the daily life of an individual with a disability is also riddled with non-medical dilemmas.
These include, but are by no means limited to, queries such as: Which airline is most accessible to people with physical disabilities? If I want to take my family to an amusement park, will we be able to ride the rollercoasters together? Which sports can my child or sibling with a disability play?
Non-medical questions can also venture into the realm of career possibilities for people with disabilities. Will, who plans to fly planes one day and had to reschedule an interview for a flight lesson, once believed that such a career would be impossible for someone with his disabilities.
But after reading an article by a pilot with a disability similar to his and reaching out to the author, the option to fly opened up for Will and changed his life's trajectory.
When asked how having a resource such as "Abled Magazine" would have helped him as he was growing up, Will emphasized the power of representation and community.
"It would have helped me purely to not feel alone in my disability and bring hope to my situation, but also to insure that there are ways to live a normal life by seeing others work hard to live their lives," NeSmith said.
For the most common disabilities, like autism or Down syndrome, online communities can offer answers to important non-medical questions. But even these are limited, and for rarer conditions, no such source of information exists.
"There's not one hub of people the way that there even are for minority groups ... or women or college students," Lindsey NeSmith said. "We just began to realize more and more, like, information is so powerful, and so why don't we go ahead and be the resource?"
Thus, Lindsey and Will set out to build a digital magazine dedicated to helping individuals with disabilities find dignity and support by featuring the lives of people with disabilities and answering their everyday, non-medical questions.
"Abled Magazine," whose title is meant to remind readers of the positive opportunities that come along with disabilities, is set to launch in a few months and will feature pieces by a plethora of contributing writers, including Lindsey and Will.
While Lindsey expects to focus on the operations and editing behind the magazine, Will is most looking forward to being able to highlight the often overlooked stories of the millions of people with disabilities who are achieving incredible things every day.
"I am so excited to reach out and meet new amazing people with amazing stories and bring those stories to life," he said. "And documenting a side of the world that a lot of people are scared to talk about."
Even though it has yet to officially launch, "Abled Magazine" has already found success. After pitching their idea at the Haslam College of Business' Graves Business Plan Competition, the NeSmiths won third place in the growth category and won $2,000, which went toward building and developing the website.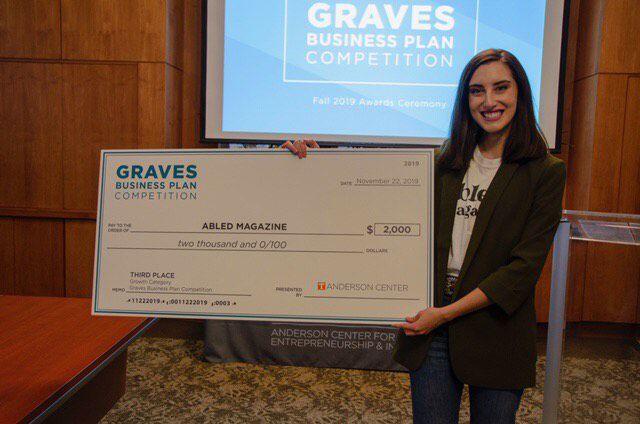 "Abled Magazine" also placed in the quarterfinals of the nationwide Student Startup Madness competition put on by South by Southwest.
The magazine, which already has a presence on Twitter and Instagram, is meant for a wide audience. After all, the World Health Organization estimates that around one billion people, or about 15% of the global population, live with disabilities, making people with disabilities the world's largest minority group.
For Lindsey NeSmith, who graduated from UT in December with a degree in journalism, "Abled Magazine" is also about educating the 85% of people without disabilities.
By highlighting and celebrating the stories of people with disabilities and offering them equal access to information that most people take for granted, the magazine is meant to emphasize the important truth that those with disabilities have more similarities to those without disabilities than they have differences.
"We're out writing this about how people who have disabilities are not less-than, they're not worse off ... they don't live a smaller life than everyone else," Lindsey NeSmith said. "Really they're not so different from people without disabilities."
Though prizes and wide readership are perks for the start-up magazine, its success ultimately lies in the relationship between the siblings at its center, which Will says has deepened and strengthened as the project has grown.
"I feel like we are growing up from teasing each other to actually starting to run a business together," NeSmith said. "We were close before, but this project is completely ours, and I love it."