Wing lovers and beer enthusiasts converged in Knoxville's Worlds Fair Park on Saturday for the sixth annual Big Kahuna Wing Festival. 
The festival features numerous vendors who set up stands and sell their wings to patrons. Tickets for the event, which include stubs that act as tokens to purchase wings, are sold before the date of the festival and also at the gate.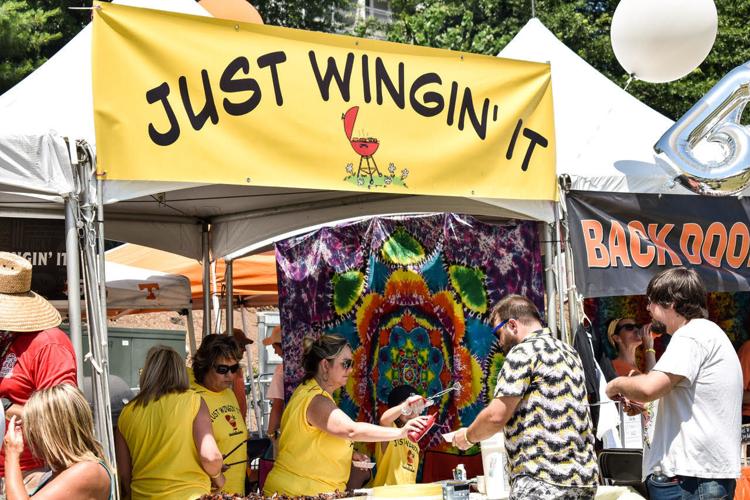 Alcoholic beverages, mainly beer, are also served in a separate tent, while some vendors use their stands to sell their own drinks. 
Matt Beeler, President and CEO of Big Kahuna Wings, began the festival six years ago in order to raise money for charity while also bringing the wing-based style of events of other areas to Knoxville. 
"I'm always about giving back to the community," Beeler said. "I actually attended a wing festival in Memphis and I wondered why we didn't have something like that here. We've got obviously a lot of great restaurants that serve really, really good wings. And then obviously people love wings in this area. 
"So, thankfully, great people ... came together with me and were able to get it started. Had no idea we'd get to this point." 
Vendors range from local restaurants to popular chains. Well-known staples Calhoun's and Quaker Steak and Lube set up stands and sold wings, while Knoxville-based Love That BBQ also set up shop at the event.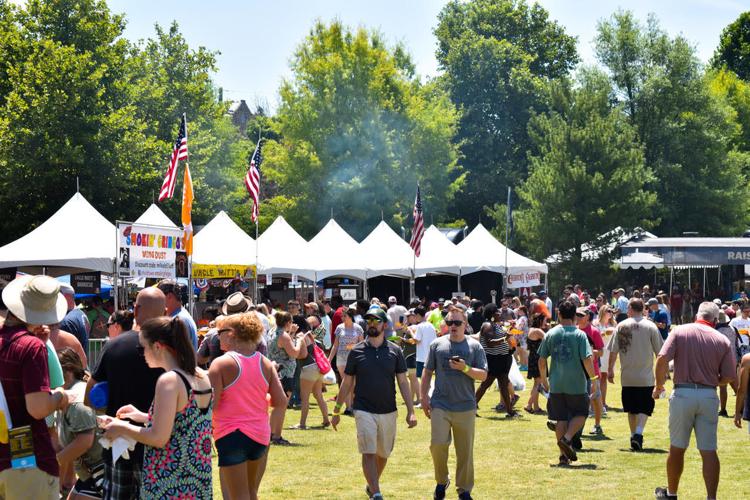 Many vendors featured multiple styles and flavors of wings, including Love That BBQ's smoky, traditional-tasting hot barbecue flavor, and Saucy Swine BBQ's buffalo-style wings, which are comprised of a tangy sauce with a spicy kick. 
The festival also includes a wing-eating competition and live music, which is played on a large stage at the head of the event's area. To Beeler, that is one of the festival's most appealing aspects. 
"Once I get to the day of, it's hard to really enjoy any of it, but the music I can hear no matter where I'm at, so I try to make sure I get some good music coming in and be able to enjoy that," Beeler said. "But watching everybody else have a good time and the more people I see in here, I know that's the more that we're going to be able to raise money for the charities. 
Some vendors sell items besides wings, including ice cream, snow cones and funnel cakes. A cooking competition takes place as well, with each team's wings judged by Kansas City Barbecue Society representatives. 
Monetary prizes are awarded to the competition's top performers. The event's highest prize is $4,000 and is given to the team that takes first place in the competition. 
Some festival patrons make a point to attend the Big Kahuna Wings Festival every year. Two attendees, Luke and Sarah Turner, have made the trip to the festival three times in a row. 
"We've always had great times," Luke Turner said. "At first, of course, it was just the wings (that brought us here), but at this point, it's just like a tradition almost." 
Sarah Turner enjoys the various flavors of wings that the numerous vendors at the Big Kahuna Wing Festival offer. 
"(My favorite part is) just trying all the different wings and all the different sauces," Sarah Turner said. "Sometimes, there's something really unique, so that's kind of cool."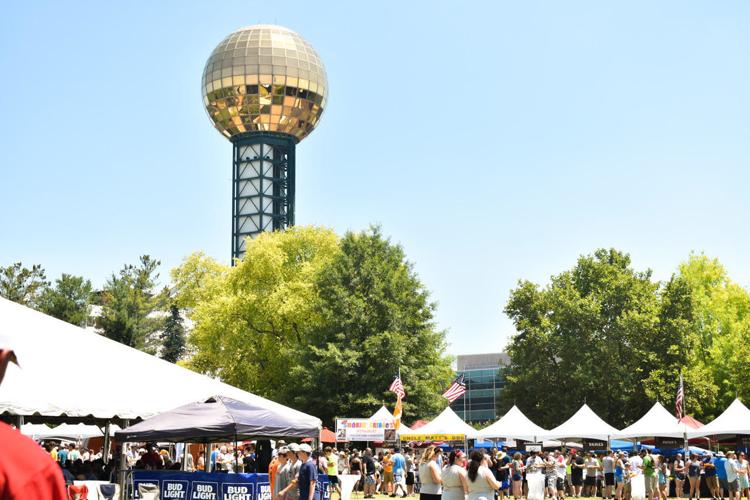 According to the event's website, the Big Kahuna Wing festival has raised $240,000 for charity and "has become one of the best culinary events in the region. Last year the festival drew over 8,000 attendees whom enjoyed over 100 different sauces from 40 different teams representing restaurants, cooking teams, businesses, and The University of Tennessee Culinary Institute." 
Beeler is hopeful that the Big Kahuna Wing Festival will be able to continue for years to come, allowing people in the Knoxville area more chances to engage in wing-tasting while also helping charitable organizations. 
"I hope (that it can continue)," Beeler said. "There's always people in need and I want to make sure I do my part. If it can keep going, I'll keep doing my part as well."