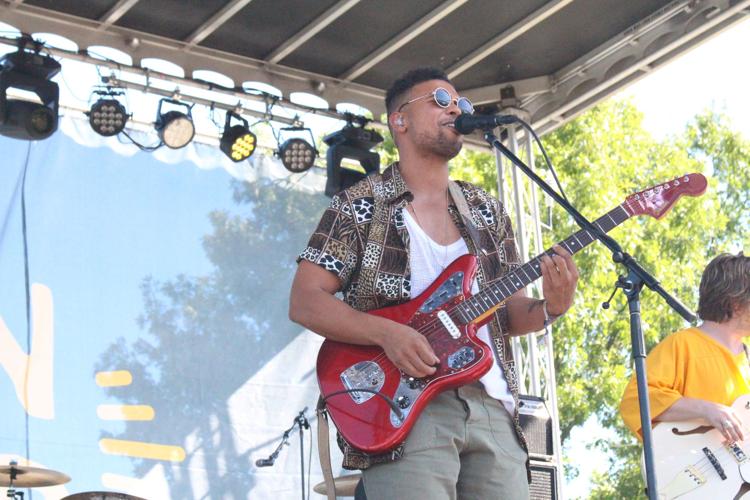 Artist Devon Gilfillian, member of the band Larkin Poe, performed at Moon River Festival in Chattanooga on Saturday. The Daily Beacon sat down with him to chat about his career and his inspiration.
Gilfillian has been surrounded by music his entire life. His father is a wedding singer, and he spent his childhood listening to hip hop music. As he grew older, he began exploring a variety of different genres—rhythm, blues, R&B, psychedelic rock. For Gilfillian, Jimi Hendrix was the artist who really demonstrated the way in which those genres could be utilized together, and Hendrix has served as a big inspiration for the melting pot that is Gilfillian's work.
"When I was 14, I picked up the guitar, and that was when I got into Jimi; my brain like exploded," Gilfillian said. "And that's when I was like okay, I need to learn this instrument. It was weird. It wasn't like I wanted to, it was like I had to. That was the moment where I was like, yup, this is my life."
Gilfillian's own music incorporates the multitudes of genres that he is a fan of. He possesses a deep, soulful voice, but the influence of hip hop, R&B and rock is also very evident in his work. He explained that the variety of genre in his music is a reflection of whatever music he is listening to, or is inspired by at the time he is writing.
"To me, it just felt natural to take whatever I was really loving at the time," Gilfillian said.
Recently, Gilfillian was given the chance to fulfill a longtime dream of his: visiting Africa.
"The fact that the record label was like hey, yeah, we can take you out to Africa and seek some inspiration, that was amazing. That was really cool that I got that opportunity," he said.
Gilfillian explained that for the past decade, he has been a big fan of Afrobeat and funk music, particularly Nigerian Afrobeat, and that discovering such music greatly increased his desire to go to Africa. He visited South Africa, and while there, he was able to meet several Afrobeat artists and film a music video. Additionally, he collaborated with Afrobeat artist Tresor to release a remix of Gilfillian's song, "Get Out and Get It."
2019 has been a successful year for Gilfillian. Thus far, he's played at Newport Folk Festival, Railbird Festival, and now, Moon River. He also just recently began his national tour. Musician Trombone Shorty will accompany Gilfillian for the first leg of the tour, and Local Natives will be joining him for the rest.
Gilfillian, who is originally from Philadelphia, relocated to Nashville a few years ago. He offered some words of advice for aspiring Nashville artists striving to make it big in a town where many talented musicians also seek the same goal.
"The first thing is the art—put together your sound, put together your band and then record that, record the best version of that that you can. And then start playing as many shows out as you can until you need to start saying no to people," he said. "You have to build an audience in Nashville, and in order to do that you have to cleverly build shows and put bills together that make sense, create a party, create an event, make something special out of it, and once you do that, once you build that buzz, then that's when you can start building the snowball, and it starts getting bigger."
According to Gilfillian's manager and drummer Jonathan Smalt, Gilfillian is just as kind as he is talented.
"Working with Devon Gilfillian as his manager and drummer has been a tremendous joy. He is the type of artist who genuinely loves his fans and wants to see his music impact the world for good," Smalt said.
Gilfillian will be visiting Tennessee again on September 22nd during Pilgrimage Music & Cultural Festival in Franklin. A complete list of his tour dates can be found here.