Walking toward the entrance of Double Dogs' new Kingston Pike location, I suddenly jumped back in shock as I heard sharp barks right beside me.
But there was no animal. Instead, it was an electronic doghouse with an automated barking soundtrack.
Such is the appeal of Double Dogs Chow House, a sports-based eatery that serves classic bar foods like hot dogs, burgers, chicken wings, pizza and more. The franchise's new location, which held its grand opening on July 9, is the seventh edition in the Double Dogs chain.
To celebrate its grand opening, the Double Dogs at Kingston Pike even donated money to the Tennessee Valley Humane Society and the Knoxville Police Patrol Division K9 Unit, handing out $2,000 to the former and $500 to the latter. 
The atmosphere at Double Dogs Chow House is simply enjoyable. A large assortment of televisions hang around the room, creating an enticing environment for any sports fan. My waitress was friendly and personable, consistently checking in with us to see if we needed anything else. That type of service truly should not go unappreciated. 
But my main focus when I made the trip to Double Dogs Chow House last Sunday was, of course, the food, particularly their assortment of hot dogs. With National Hot Dog Day taking place on Wednesday, what better way to celebrate than by trying a menu offering that is actually included in the restaurant's name (although it is technically referring to the animal, not the food)? 
I had eaten at the Double Dogs in Hardin Valley before, so I was already aware of the awe-strikingly incredible food that the restaurant offers. Their chicken tenders covered in barbecue sauce may just be the best that I've ever had. But on Sunday, it was all about the hot dogs.
I ordered the "breakfast dog," a hot dog with bun and topped with two fried eggs, bacon, cheese and grilled onions. Knowing that bacon and fried eggs on a burger are an excellent mix, I was excited to see how the combination, one that I had never before encountered, would work on a hot dog.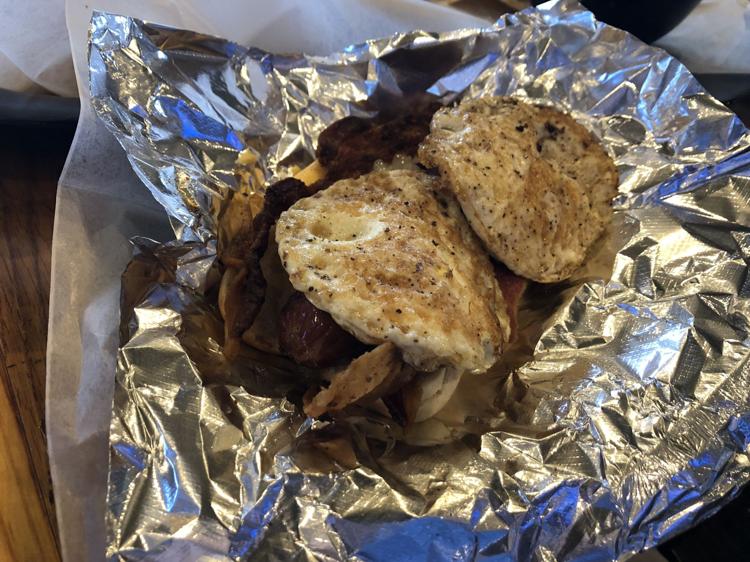 Overall, the taste of the hot dog was unique, but not overpowering, which one might expect from such an interesting take on the food. It only reinforced my notion that fried eggs are a positive addition to almost anything, as the slightly-runny yokes enhanced the taste of the meat and the bun. 
The only part of the meal that I wasn't particularly pleased with were the onions. Mixed with the cheese, they gave off a taste that I felt didn't complement the hot dog and the other toppings. However, everything else on the hot dog was delicious, and it is definitely an entree that I would order again. 
I also discovered one menu hack that is sure to please anyone who partakes in it. Order the homemade queso, which is included as an appetizer, along with a serving of fries. Dip the fries in the queso and soak in the ultimate deliciousness.
Double Dogs' queso is meaty and delectable, simply one of the best I've ever had, and combining it with the salty pleasure of fries is a match that should be added to the menu as a set order. 
If you're looking for a restaurant where you can find a fun, exciting environment mixed with delicious, inventive food, look no further than Double Dogs. I've been a fan for a while and my latest experience didn't deter me in any way. 
On National Hot Dog Day or any other occasion, a visit to Double Dogs Chow House won't lead you a-stray (pun intended).